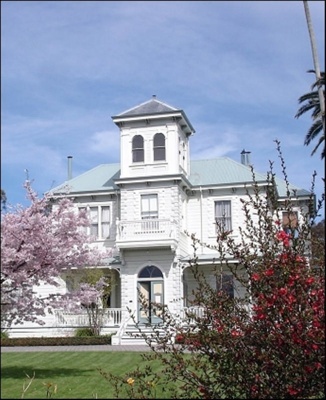 Duart House was built in 1862/63 for Allan & Hannah McLean. It is a large, two-storied colonial mansion, still very much in original condition. It has only ever been owned and lived in by two families, and was a school for a short period from about 1914-1921.
Since the 1980s it has belonged to Hastings District Council, but is administered by the Duart House Society, which is a charitable institution.

The ground floor of the house serves as a function centre, while the upstairs (bedroom) floor has been set up as a museum featuring pre-1920s furniture and artefacts. The courtyard behind the house contains several outhouses which have also been set up as museum exhibits. In particular the laundry/washhouse is unchanged from its original set-up.
Contact Details
51 Duart Road Havelock North New Zealand
06 877 6334
Visitor Information
51 Duart Road Havelock North New Zealand
10am-12 noon on the first Sunday of every month
$3 for adults and $1 for children
Share