Tramway Historical Society Inc.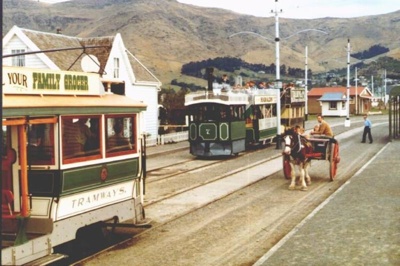 The Tramway Historical society is a "not-for-profit" charitable organisation, and was formed in February 1960. Since formation, the Society has taken on many restoration projects – but is perhaps best known for the establishment of the Ferrymead Tramway – an operating Tramway at Ferrymead Heritage Park, where restored heritage steam, horse and electric trams recovered from throughout the South Island can be seen running. The society also leases five of its restored Trams to the City Council then on to the Tramway Operator for the City Tramway. The society also has a small fleet of heritage omnibuses, and a working trolley bus line with examples of trolley buses from all the trolley bus systems in New Zealand. New members and visitors are always welcome, and they may enquire at Ferrymead, either Ferrymead Heritage Park main reception or at the Trambarn, 269 Bridle Path Road, Christchurch. Refer to our website for further details. The picture shows restored Kitson Steam Tram - 1881 vintage and the only operating example in the world - towing two restored heritage double decker trailers operating on the Ferrymead Tramway in the village area of Ferrymead Heritage Park, and about to passed by Christchurch Electric Boon car 152.
Contact Details
PO Box 1126, Christchurch 8140 
64 3 384 1708
secretary@ferrymeadtramway.org.nz 
Visitor Information
Trambarns, 269 Bridle Path Road, Ferrymead, Christchurch 8022
10am - 4:30pm, 7 days a week (entry via Ferrymead Heritage Park). Tramway normally operates weekends, public holidays, school holidays and mid December through to Waitangi Day.
Refer to our website.
Other Facilities
Operating heritage tramway running restored heritage Steam, Electric and Horse drawn tram cars from throughout South Island city tramways. Operating Trolley Bus Museum. Heritage Bus fleet. Tram Restoration workshops. Tramway infrastructure and urban transport related heritage collections.
Share