The Timber Museum Of New Zealand Trust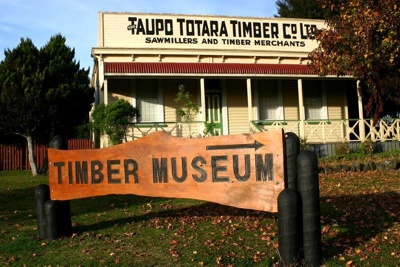 Presenting the history of timber and the logging industries in central North Island. Includes an acclimatisation display. Set in park-like grounds which include native tree plantings and a picnic area. Local community displays on the history of the Putaruru district. A large historic villa moved to the site from the nearby Lichfield Cheese factory site has; been restored and is used as an office and display and audio-visual room.

The Putaruru Timber Museum site was the first Radiata Pine nursery in 1926 and a timber Mill in 1944. Evidence of this is still visible. The site also contains historic buildings and an archives room containing local community history, photographs and documents. The parklike grounds have large log and machinery exhibits on display.
Contact Details
PO Box 103, Putaruru
64-7-883 7621
Visitor Information
State Highway 1, Putaruru
Daily 9am to 4pm
Adult: $8.00 Child: $3.00 Family: $18.00 Groups: $6.00