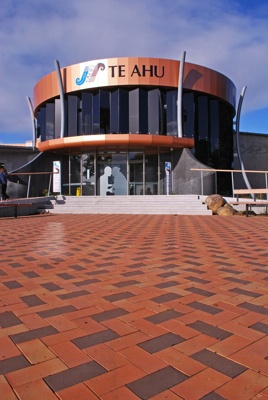 The Te Ahu Heritage Museum in Kaitaia holds a remarkable collection. Its purpose is to illuminate the stories and histories of the very Far North district [Te Hiku o te Ika] of New Zealand. Treasures among the pre-European Maori collection include greenstone, early carvings and the 500 year old skeletal remains of the extinct kuri [ Polynesian dog]. Other major themes are gum digging and the Dalmatians, kauri gum and timber, early shipwrecks, missionary pioneers. The Museum has a large archives collection – documents, journals, newspapers, maps and photographs from the extensive Northwood Collection. It is the proud home of the first European item left in New Zealand, the mighty de Surville anchor.
Contact Details
Cnr South Rd. & Matthews Ave Kaitaia, 0410
64-9-4089457
Kaaren Mitcalfe - Manager / Curator Lynda Hammond - Archivist
Visitor Information
Cnr South Rd. & Matthew Ave
Every day 9am - 4pm
Community: Gold coin donation Non-local visitors - Adults: $7 Children: $3
Other Facilities
Archives open 9.30am to 3.30pm Thursday and Friday. Bookings preferred. E: Archivist@teahu.org.nz.
Search Te Ahu Museum's Collection
Archives - View All (282)

Art - View All (1)

History - View All (12)