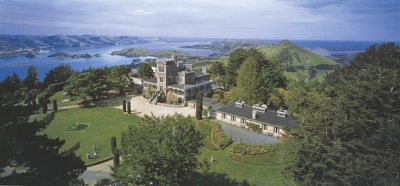 Discover New Zealand's only Castle, built 1871 by William Larnach, merchant baron and politician, for his beloved first wife Eliza. It took more than 200 workmen three years to build the Castle shell and master European craftsmen spent a further 12 years embellishing the interior. Larnach spared no expense on his dream home, which features the finest materials from around the world.

The Castle is still privately owned and cared for by the Barker family who purchased it as their home in 1967. Decades have been spent on the Castle's restoration, with the family having restored empty buildings from ruin and assembled a large collection of original New Zealand period furniture and antiques. Open to the public throughout, this conservation project has been funded through admission fees. The family has always been committed to opening their home and sharing this significant period of Dunedin and New Zealand's history.

Scandalous and tragic stories, spectacular tower views and a Garden of International Significance complete this enjoyable award-winning experience. Boutique Lodge accommodation is available in the Castle gardens. Weddings, Balls, Conferences and Celebrations are held in the beautiful 3000 square foot Ballroom. High Tea is also now served daily in the Ballroom at 3pm

The gardens at Larnach Castle have been rated by the New Zealand Gardens Trust as a Garden of International Significance. The gardens are Margaret Barker's personal creation over 40 years - not only is she a restorer of historic buildings, but also a passionate gardener.

There is always something to see in the gardens at Larnach Castle. This is more than just a Garden of International Significance; it is a unique collection of specialised gardens. For instance, there is a Patterned Garden, the Lost Rock Garden, the Serpentine Walk, the Rain Forest, the South Seas Garden, the Alice Lawn, and the Laburnum Arch and Green Room.
Contact Details
P O Box 1350, Dunedin
64 3 476 1616
Contact Deborah Price via: larnach@larnachcastle.co.nz
Visitor Information
145 Camp Road, Otago Peninsula
Daily 9am-5pm
Adult Castle and Garden Entry $27.00 Child (5-14years) Castle & Garden Entry $10.00, Adult Garden Entry $12.50 Child Garden Entry $ 4.00
Other Facilities
Tourist brochures.
Share