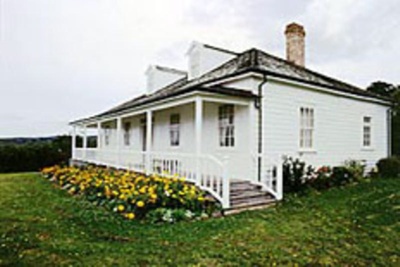 Under the protection of Ngapuhi leader Eruera Maihi Patuone, Mangungu was established in 1828 as the second Wesleyan Mission station in New Zealand, the first being destroyed in 1827. This house was built in 1838-1839 for the Reverend Nathaniel Turner.

As well as hosting Governor William Hobson during the second major gathering for discussing and signing Treaty of Waitangi – where 70 chiefs added their assent before a crowd of up to 3,000 people – Mangungu was the scene for the introduction of honey bees to New Zealand.

From 1840 the mission house was occupied by the Reverend John Hobbs and his family. Hobbs had drawn the plans for the house – a single-storey structure in a symmetrical, Georgian style – and supervised its construction from local kauri. They left Mangungu for Auckland in 1855 and the house was moved to Onehunga where it was used as a Methodist parsonage and then sold to private owners.

The mission house was returned to the Mangungu site in the 1970s, restored on behalf of the Heritage New Zealand Pouhere Taonga, and opened as a museum in 1977. The house overlooks the Hokianga Harbour and the historic mission cemetery.

The building is architecturally valuable for demonstrating early nineteenth-century timber-framed construction techniques, and is one of only a few surviving structures in the country that pre-dates New Zealand's establishment as a British colony in 1840.
Contact Details
64-9-405 9734
www.heritage.org.nz/places/places-to-visit/northland-region/mangungu-mission
Visitor Information
Motukiore Road, 3km from Horeke, Hokianga Harbour
Saturday & Sunday, November-April; closed Christmas Day 12.00 - 4.00pm Summer & Easter school holidays: Thursday - Monday 12.00 - 4.00pm
$10 adults Accompanied children: Free Unaccompanied children: $3.50 Please understand that surcharges may apply at times of special events.
Other Facilities
Museum brochures / tourist brochures
Search Mangungu Mission House's Collection
Archaeology - View All (1)