Mainline Steam Heritage Trust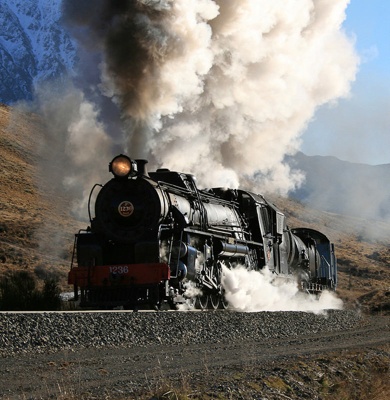 Mainline Steam is an organisation devoted to the restoration and operation of historic mainline steam locomotives. Regular day excursions and multi-day tours are operated, by Mainline Steam, over rail lines throughout New Zealand. These excursions provide travelers with the unique opportunity to relive the days when steam was king while experiencing the magnificent New Zealand countryside. Excursions are operated by the Auckland, Wellington and Christchurch branches. These are well advertised in local newspapers and on the Excursion page of this website. Early bookings are essential for all excursions.

Mainline Steam currently has a number of fully restored and mainline certified locomotives. They include: J1211, Jb1236, Ja1275, Ab663, Ka942 and Ba552.

Our principal depot is located in Auckland at 23 Cheshire Street, Parnell, where up to twelve steam locomotives are kept, including a GMAM Garratt from South Africa. The depot is usually open Monday to Friday from 9am - 4:30pm and visitors are always welcome. Entry is by donation (usually $5). We welcome school groups who would like to visit our depots. Please telephone to book your visit. This depot makes a great location for commercial film makers and a number of advertisements and scenes from TV shows and movies have been filmed there.

The Wellington Depot is located at Plimmerton and regular workdays are held each Saturday. In Christchurch the depot is located in Middleton and because it is located on an industrial site access is restricted. If you are going to be in those areas contact details can be obtained by emailing us.

See our website www.mainlinesteam.co.nz for full details.
Contact Details
23 Cheshire Street, Parnell, Auckland. 1052
64-9-302 3005
Visitor Information
23 Cheshire St, Parnell, Auckland
Monday-Saturday 9am-4pm
$5
Share