Kahutara Taxidermy Gallery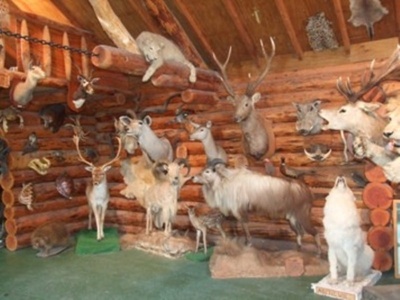 This natural history museum is housed in a genuine log building in a pleasant rural setting. The mounted collection includes the large Archie Robertson bird collection, Grays rock collection, insects, butterflies, exotic and native animals and birds. The animals in this collection include exotics such as tigers, lions, alligators, crocodiles. The birds are from New Zealand, British, Australian and around the world. The insect collection includes wetas, stick insects, dragonflies. There is also a large rock collection from all over New Zealand.

Also available on site is a Kayak/Canoeing operation, live animal feeding, along with BBQ and picnic facilities. Situated 15mins from Martinborough on the Featherston to Lake Ferry road.
Contact Details
RD1, Featherston
64-6-308 8453
Visitor Information
Pahuatea Road , RD1, Featherston
Open by appointment
Adults $5, Children $2, Family $10
Other Facilities
Museum brochures / tourist brochures
Share