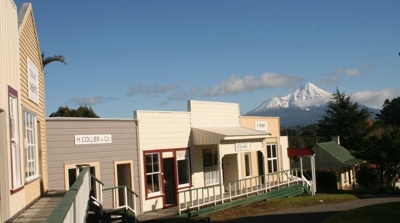 Set in ten acres, and representative of a Taranaki Pioneer Village from 1850 to 1950, complete with village green and lake. It comprises 40+ authentic, mostly original, buildings, several being pre-1900. All are furnished and filled out in the period and most can be entered. The Village Homestead features possibly the only known example of a 'Kauri Bath Tub made entirely of this native timber. The comprehensive Stratford Hospital Museum, run by a team of retired nurses, is believed to be the largest in NZ.

Walk, feel & sense the vivid history of everyday life in an early Pioneer Village.
Contact Details
PO Box 401, Stratford 4352
64-6-765 5399
Five paid staff including a teacher for School Education & Holiday programmes. Over 30 volunteers.
Visitor Information
State Highway 3, Stratford
Daily 10am-4pm (open Wed - Sun during winter months - see updates on FaceBook)
Adult $12.00 Senior Citizens $10.00 Children $5.00 Pre-schoolers Free Family $25.00 (2 adults & up to 4 school children) Train Rides $3 each with entry to Village; $5 each without entry to Village
Search Pioneer Village's Collection
Explore By Object Tags