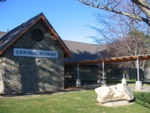 Central Stories Museum & Art Gallery tells the stories of Central Otago's unique flora and fauna, of gold mining throughout the region, and of the people who made Central home.
Collection Type
Art, Historic Site, History, Military, Natural History, Taonga Maori, Technology
Contact Details
Visitor Information
| | |
| --- | --- |
| | 21 Centennial Avenue, Alexandra, New Zealand |
| | Every day 9.00am - 5.00pm Closed Christmas Day |
| | Donation |
Facilities
Large retail area, Reference library and public research room, Monthly children's Explorers Club, Music and Humour concerts on the first Friday of every month, Museum brochures, Tourist brochures, Feeding of our rare Otago Skinks, Tuesdays 11am.
What's on
Ninety by Victoria Stevens
Ninety is an evocative and moving installation of 90 hand-stitched and dyed textile works. It is a very personal journey by Victoria exploring notions of identity, social history, domestic arts, poetry and inherited ...
Region:
Alexandra
Dates:
17-Jun-2018, 18-Jun-2018, 19-Jun-2018, 20-Jun-2018, 21-Jun-2018, 22-Jun-2018
View more sessions
Captured In Cold Blood
Captured in Cold Blood is a project 10 years in the making by award winning wildlife photographer Phil Melgren. His outstanding photographs on canvas are of rare New Zealand skinks and geckos captured in their ...
Region:
Alexandra
Dates:
17-Jun-2018, 18-Jun-2018, 19-Jun-2018, 20-Jun-2018, 21-Jun-2018, 22-Jun-2018
View more sessions